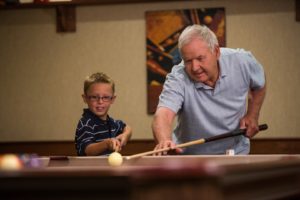 As they age, seniors can find it a particularly difficult task to keep their lives in order.  Their possessions and memories increase over time and the desire to leave a legacy behind for loved ones can be a strong one.  In fact, when selling a home and relocating to a retirement community, the issue of legacy can become a source of stress.  Our aging loved ones want to leave behind more than just eBay auction items and Goodwill giveaways – they want to leave their stories, their knowledge, and their skills for others to benefit from.  Here are some things you can do to ensure your loved ones will be remembered and appreciated for generations to come:
Set Up the Video Camera
Next time you are at a family get-together, ask your loved ones to tell their story.  How did they meet?  Where did they grow up?  What is their favorite memory about each of their children?  What advice would they give a young person just starting out in life?  Ask them for information that you can capture, preserve, and share with your kids and grandkids. They will likely be happy to take the time to reminisce – and you will have created something that will honor and respect them as well as preserving your family heritage well into the future.
Gather Up Favorite Recipes
Sift through the old recipe cards in the kitchen.  Take your favorites to the local printer and ask if they can copy them onto sheets of binder paper.  Purchase three-ring binders and make recipe books for all of the kids/grandkids.  Many great family traditions are built around food – and this is a great way to preserve them.
Don't Forget the Photos
Perhaps the most powerful way to look back on the lives of our aging loved ones is through photos and mementos.  Consider working with them to put together personalized albums for children and grandchildren with photos and mementos specific to them and their time together with their parents/grandparents.  Preserving the fond memories of the past, and continuing to capture them as they happen now, will result in a cherished gift filled with indelible moments.
If you or a loved one would like to talk about what it means to move to a retirement community, Sweetwater would be honored to assist you.  Just call us at (406) 534-0355.