There are many factors that go into choosing a retirement community. Everything from financial planning to healthcare, apartment preferences, staff personalities, dining options, amenities – the list goes on and on. While these are all important factors in making a final decision, one vital piece of the overall puzzle can often go overlooked: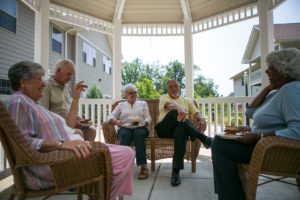 Will my loved one have opportunities to get to know other residents?
It is not until after your loved one moves into a retirement community that they can truly take advantage of the fellowship opportunities available to them in their new home. At Sweetwater, the Life Enrichment Coordinator (LEC) will spend time getting to know your loved one after they move in. The LEC works to provide opportunities for residents to participate in a variety of activities together. As residents participate in these activities, they get to know one another better and great friendships develop. There are many things to do and places to go at Sweetwater and there are lots of people to share the experience with. It is these collective shared experiences that will help ensure that residents have a wonderful time living and learning at Sweetwater.
Being physically and socially healthy
Being in good health is about more than just eating right and exercising. It is about the entire spectrum of our wellbeing and the overall enrichment of our lives. Investing in our social wellness is just as important as being physically fit – especially since we are naturally wired to connect with people socially. When we heed that physical instinct to be with others, our bodies benefit.
"We are profoundly shaped by our social environment and we suffer greatly when our social bonds are severed," said Matthew Lieberman, Scientist and author of the book, Social: Why our Brains Are Wired to Connect, in an interview with Scientific American. "The fact is that our well-being depends on our connections with others," he added.
As you research senior living options, look for a community that encourages residents to do things together and to maintain friendships and contacts outside the retirement community as well. Take advantage of opportunities to attend events and to enjoy a meal or two with residents before making a final decision. These kinds of experiences will give you a better glimpse into what everyday life will be like in a community. You may also want to ask what programs the Life Enrichment Coordinator has in place to encourage residents to continue pursuing lifelong skills and interests after they have moved in.
If you have any questions about what Sweetwater has to offer, feel free to contact us at (406) 534-0355. We would be honored to assist you in your journey.