Taking care of our bodies requires more than regular exercise and making sure we're getting all the essential nutrients we need—though these are key pieces to the puzzle.
Perhaps one of the best approaches to healthy living is making sure our "whole" body wellness is getting some TLC, too.
What Is Whole Body Wellness?
When you hear "whole body" think 360° of self care. That means the physical, mental, social, and spiritual aspects of a person's life that inspire him or her to wake up and seize each new day!
Wellness is essential to one's health, no matter what age you are. But, as we get older, pursuing this type of lifestyle may be more challenging than it once was. This could be due to several factors, including:
Less mobility
Maybe you drive your car less or not at all. This often means relying on public transportation, or the help of someone else, to do your errands, cooking, cleaning, etc.
Less energy
The less we do, the more tired we feel. And the more we stay sedentary, the more likely we are to make excuses for being inactive throughout the day.
Less socializing
Isolation has been on the top of many seniors' minds these past few years. With unprecedented lockdowns—some still occurring even today—many older people find themselves stuck in their homes, away from family, friends, church members, and the community.
So, how do you fit wellness into your routine in 2022 and beyond? The last thing on your mind might be moving to a retirement community. But it may surprise you to learn that communities like Sweetwater provide senior wellness opportunities that complement your passions and help you thrive both mentally and physically—every single day.
Senior Wellness at Sweetwater
Senior wellness seems to have picked up some steam in conversations in the media, on social media, and everywhere else you might get your news. But at Primrose Retirement Communities, providing opportunities for seniors to live their best lives is just something we do naturally.
Let's show you what we mean!
Weekly Activities
In our community, we have the honor of serving a weekly activities calendar that's packed with fun, social events. From ice cream socials and bingo to arts and crafts, book clubs, church services, live music, and trivia, there's always somewhere to be, and someone to see, when you live at Sweetwater.
Wellness Center
You can always enjoy a weekly group fitness event, but we also offer residents access to our wellness center. Our center includes exercise equipment, yoga mats, and resistance equipment to workout on your own, on your schedule!
Chapel
Our residents also have access to our community's chapel, always within walking distance from your home. This means you don't need to travel far to sing and worship with fellow neighbors on Sunday, attend Mass, or join a weekly Bible study group.
Game Room
Did you know that play is the brain's favorite way of learning? We think Diane Ackerman was on to something here. That's why we also offer residents access to our community game room, where they can play pool, chess, or enjoy other board games with friends and visiting family.
Library
Who doesn't love relaxing in a quiet space with their favorite book in hand? Each Primrose is equipped with a library room for residents to unwind and get nose deep into their favorite narrative genre.
Senior Wellness Programs —Life Enrichment
Though senior wellness has, and continues to be, a top priority in our community, we're always on the lookout for new experiences and opportunities we can share with our residents to help enrich their lives.

One such program is our Primrose Senior University (PSU). We offer residents lifelong learning opportunities they won't find anywhere else.
From taking courses on ancient civilizations and mythology to learning about America's favorite captains of industry, pastimes, and national parks, our residents have new opportunities to expand their minds while they learn, create, share, discuss, and engage on a diverse variety of topics.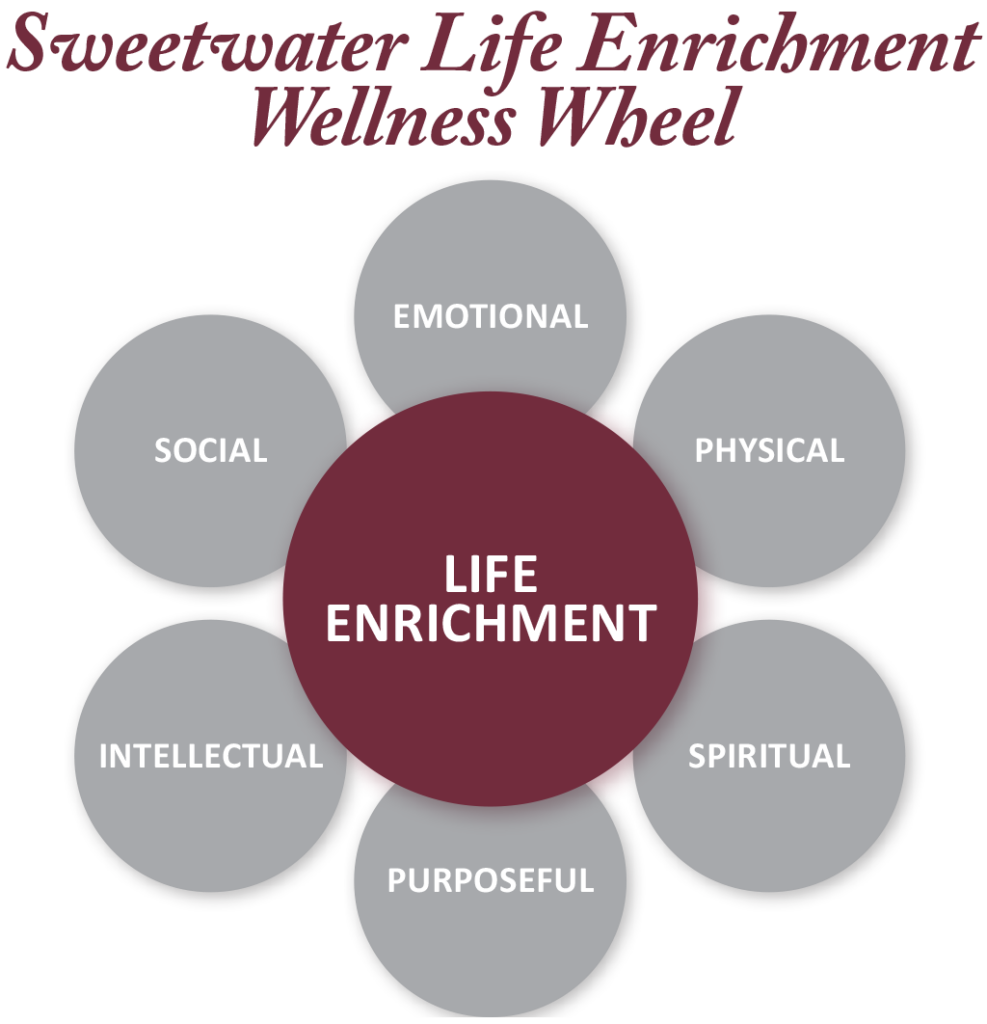 These programs are designed to reflect each of our resident's interests and are based on Sweetwater's Six Dimensions of Wellness:
Purposeful
Emotional
Physical
Spiritual
Intellectual
Social
As we noted before, wellness is achieved when you look at self-care from a 360° perspective. And that is exactly what you'll discover at Sweetwater.
You will find the following programs that are designed to provide a holistic wellness experience each day:
Wellness Centers (for fitness, meditation, strengthening, and mobility)
Nutritious Meal Plans
Weekly Social Events
Worship Services
Arts & Crafts
Game Rooms
Convenient Transportation
Our goal is always to give residents every chance to stay active and pursue their passions, no matter what age or ability.
Wellness Enhanced Lifestyle Living Is Possible!
To learn more about living at Sweetwater, we encourage you to check out our website. From there, you can select a location near you and take a virtual tour of its community. You can also view our photo galleries, and discover more about our personalized services and housing options.
If you'd like to schedule an in-person visit, we'd be delighted to welcome you and show you around. For all other questions, please contact us today!